A2IM Featured Executive: Kathleen Cook, Managing Director of Publishing & Sync at Secretly Group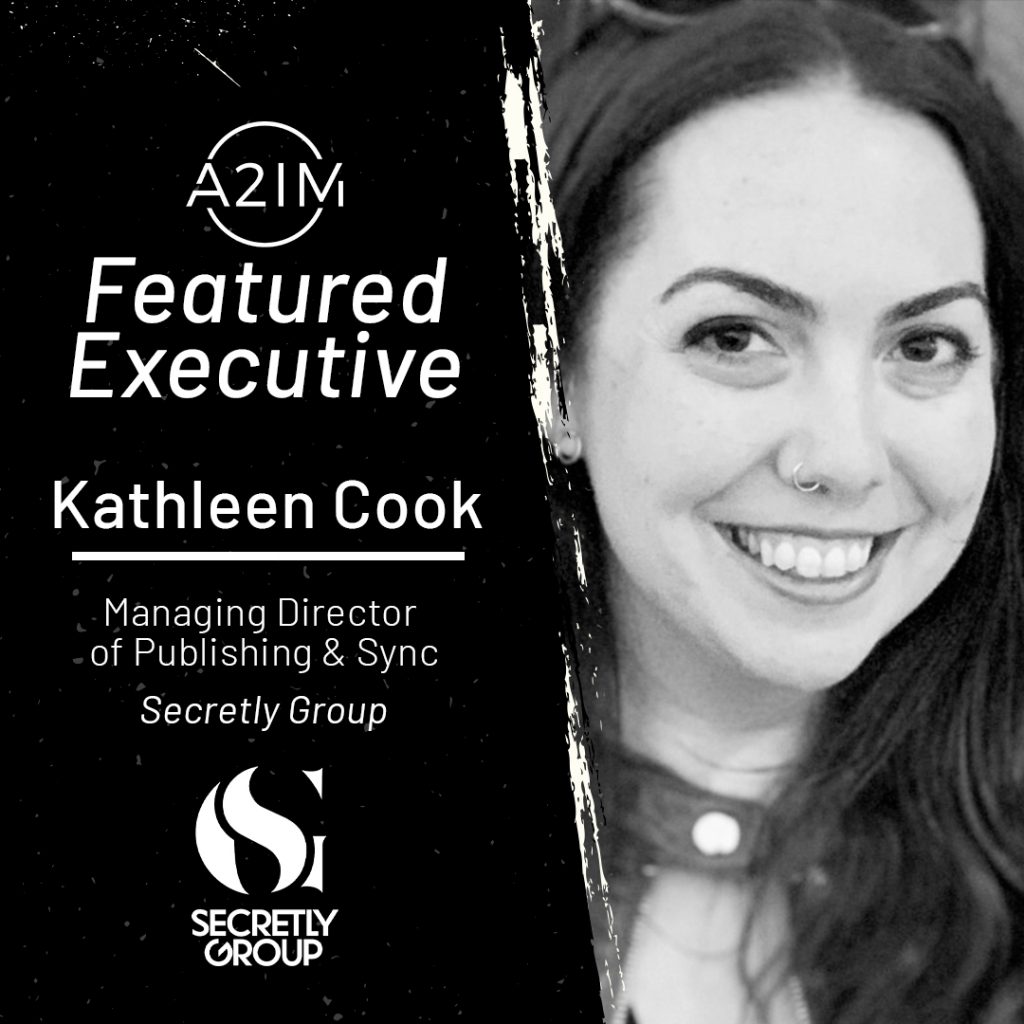 Welcome to A2IM's Featured Executive feature. We will highlight executives making moves and supporting the growth of the independent community. Do you or someone you know fit the bill? Submit an executive here. Please meet this week's featured executive, Kathleen Cook, Managing Director of Publishing & Sync at Secretly Group.
Kathleen Cook is the Managing Director of Publishing & Sync for Secretly Group. With more than a decade of service to Secretly, Kathy assumed her current role heading Secretly Publishing in 2018. Previously, she worked in Secretly's business affairs department, developing the company's licensing best practices with a focus on sync, commercial licensing, samples and recorded live performances.
As part of leading Secretly Publishing, she also oversees sync operations for Secretly Group's affiliated record labels, including Dead Oceans, Ghostly International, Jagjaguwar, The Numero Group and Secretly Canadian, plus the sync operations of a subset of Secretly Distribution's distributed labels.
Cook leads with the same artist-first ethos that all of Secretly is built upon. Throughout the past 18 months, Secretly Publishing has signed new publishing or administration deals with Corbin Canvas, Crumb, Erin Rae, Faye Webster, Heno., Kenneth Whalum, NNAMDÏ, TOPS, Turnover and more, renewed deals with Bayonne, Jay Som, Michael Nau and Phil Elverum, and formed a new administration deal with Ghostly International's publishing division, Ghostly Songs. Secretly Publishing also earned two 2020 A2IM Libera Award nominations for Best Sync and Best Sync In a Gaming Trailer/Promo, and have had songwriters featured on recent releases by BROCKHAMPTON, Chaka Khan, Chance the Rapper, Kanye West, Maggie Rogers, Vampire Weekend and others.
Under the leadership of Kathleen Cook, Secretly Publishing prioritizes transparency and remains tireless in their work to cultivate the careers of burgeoning songwriters, canonize catalogs that merit a permanent place in history, and maximize the value of music creators through fair and dynamic dealmaking. The company currently represents over 15,000 musical works, ranging from songs by contemporary independent artists to a catalog of long undiscovered soul and funk hits of the 1960s and 1970s, many of which have found new life through sampling in Top 40 hits of today. Recent supervision work includes Netflix original films, series and comedy specials, Amazon series and more."
About A2IM:
A2IM is a 501(c)(6) not-for-profit trade organization headquartered in New York City that exists to support and strengthen the independent recorded music sector. Membership currently includes a broad coalition of more than 700 Independently-owned American music labels. A2IM represents these independently owned small and medium-sized enterprises' (SMEs) interests in the marketplace, in the media, on Capitol Hill, and as part of the global music community. In doing so, it supports a key segment of America's creative class that represents America's diverse musical cultural heritage. Billboard Magazine identified the Independent music label sector as 37.32 percent of the music industry's U.S. recorded music sales market in 2016 based on copyright ownership, making Independent labels collectively the largest music industry sector.
Learn more about A2IM. To join, contact us at [email protected].