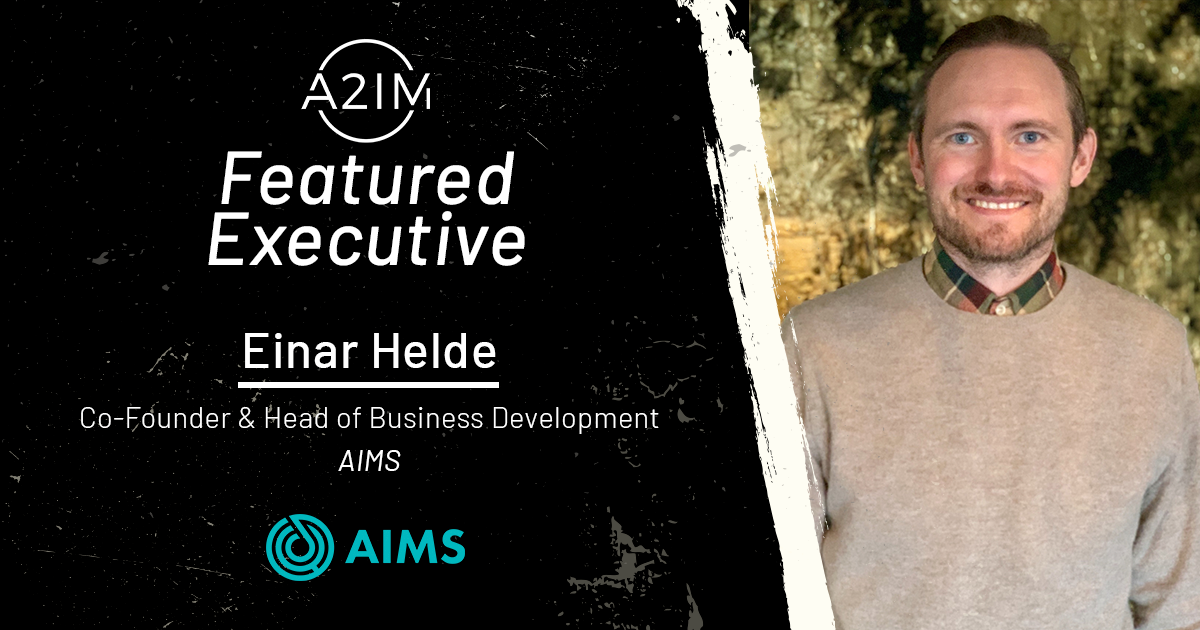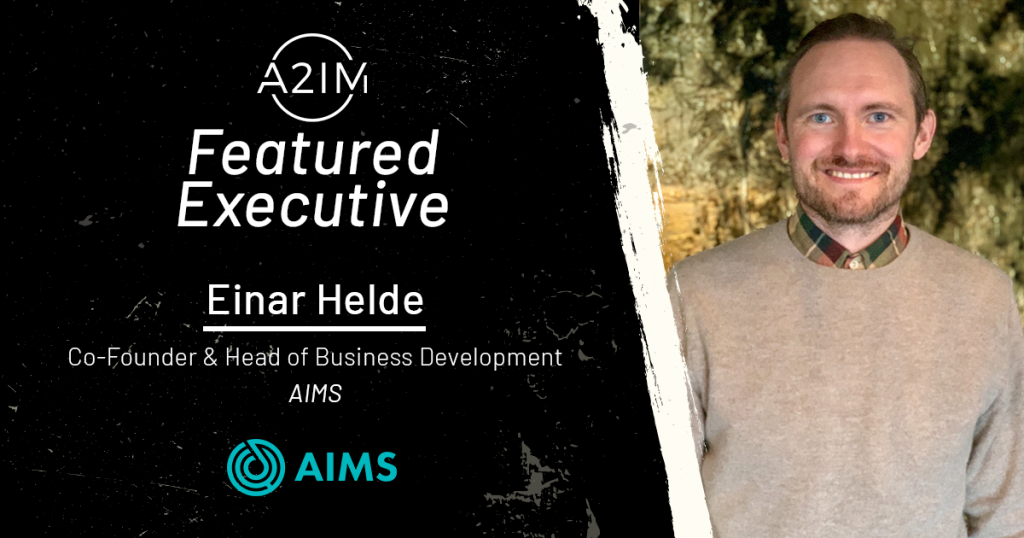 Welcome to A2IM's Featured Executive feature. We will highlight executives making moves and supporting the growth of the independent community. Do you or someone you know fit the bill? Submit an executive here. Please meet this week's featured executive, Einar Helde, Co-Founder & Head of Business Development at AIMS.
More than a decade working in international production music and managing his own company, APL Publishing, inspired Einar Helde to co-found AIMS, an innovative music tech startup specializing in AI-based music similarity search where he has been Head of Business Development since 2019.
Einar has hands-on experience with many aspects of music sync, from music supervision to the collection of neighboring royalties. He has supplied music for projects ranging from an Oscar-nominated Scandinavian film to American television shows like Shameless and Comedians in Cars Getting Coffee, and ad campaigns for clients including McDonald's and Apple. He has also worked with ad agencies such as McCann Worldgroup and Omnicom Group, as well as broadcasters around the world. 
This diverse professional background has been the foundation for Einar's work at AIMS. 
"I understand how important it is for music companies to respond to briefs fast with the best possible tracks. Being able to search quickly and accurately through large catalogs, while pinpointing similar sections of tracks, is really crucial for success," he says.
Unsatisfied with existing music similarity search technology, Einar co-founded AIMS to provide the fastest, most advanced and accurate similarity search on the market. After just two years, AIMS now works with some of the largest production music companies in the world, including Universal Production Music and EMI Production Music, as well as numerous independent labels and sub-publishers. 
As Head of Business Development, Einar shows clients how they can benefit from AIMS, and finds new applications for this powerful, sophisticated proprietary technology. He says his current position is an evolution of his work in production music, which began in the early 2000s. 
"AI really is the future of music search. It is an incredibly powerful tool that allows you to be more creative and focus on valuable projects and tasks," he says. "Seeing how our technology saves time and solves existing problems in music companies of all sizes is exciting. We make curation, playlisting and sync-pitching faster and better than before." 
The AIMS API can easily integrate with all music management software. If you'd like to learn more about how the tool can help your team work faster and more effectively, get in touch with Einar at 
About A2IM:
A2IM is a 501(c)(6) not-for-profit trade organization headquartered in New York City that exists to support and strengthen the independent recorded music sector. Membership currently includes a broad coalition of more than 700 Independently-owned American music labels. A2IM represents these independently owned small and medium-sized enterprises' (SMEs) interests in the marketplace, in the media, on Capitol Hill, and as part of the global music community. In doing so, it supports a key segment of America's creative class that represents America's diverse musical cultural heritage. Billboard Magazine identified the Independent music label sector as 37.32 percent of the music industry's U.S. recorded music sales market in 2016 based on copyright ownership, making Independent labels collectively the largest music industry sector.
Learn more about A2IM. To join, contact us at [email protected].