A2IM Featured Executive: Jon Coombs, VP of A&R, Secretly Group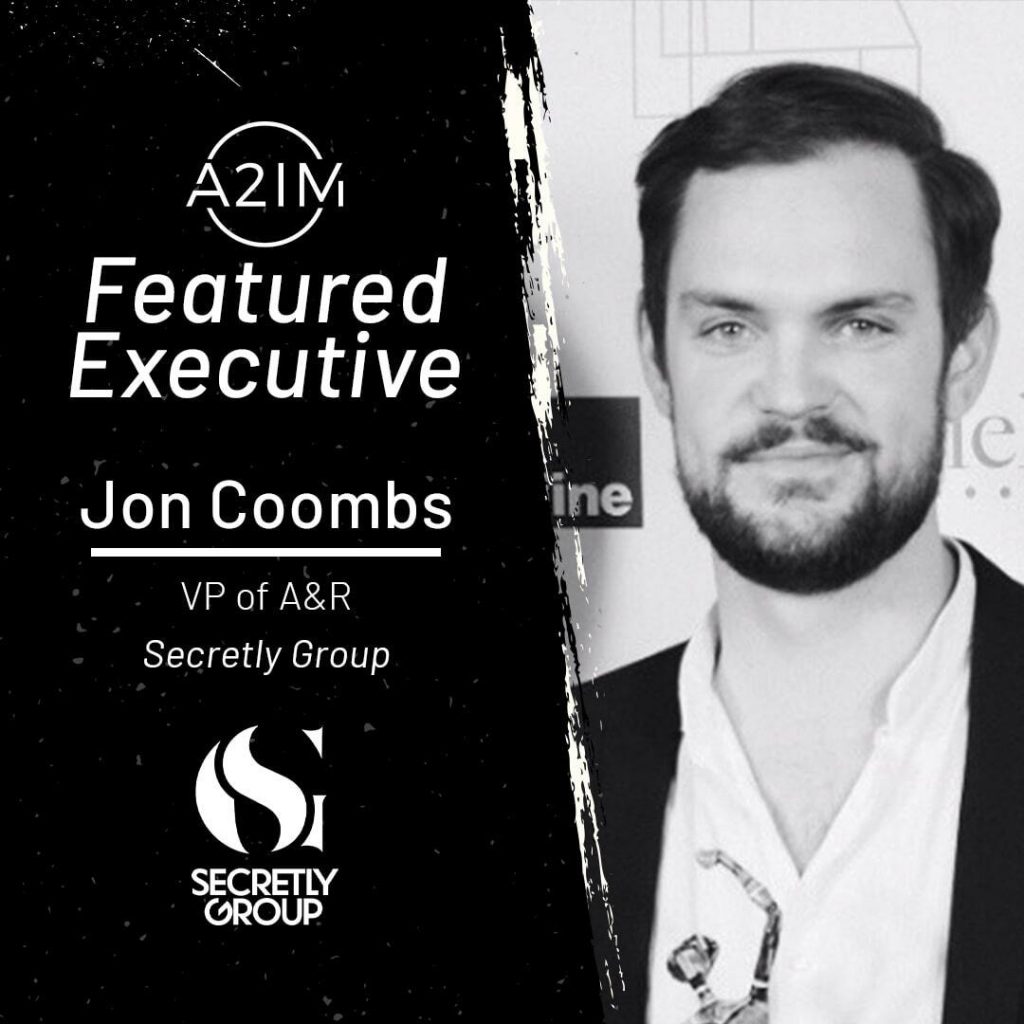 Welcome to A2IM's Featured Executive feature. We will highlight executives making moves and supporting the growth of the independent community. Do you or someone you know fit the bill? Submit an executive here. Please meet this week's featured executive, Jon Coombs, VP of A&R at Secretly Group.
As Secretly Group's VP of A&R, Jon Coombs oversees all A&R endeavors for Dead Oceans, Jagjaguwar, Secretly Canadian and Secretly Publishing. He manages a global A&R staff that has signed or released debuts for the likes of Faye Webster, Fenne Lily, Gabriel Garzón Montano, NNAMDI, Okay Kaya, Ramy Youssef, Skullcrusher and more in the last year alone.
Coombs' A&R work also includes Angel Olsen's 2019 opus All Mirrors (nominated for Album of the Year at the 2020 Libera Awards), in addition to releases from Kevin Morby, Mitski, Whitney and others. Jon previously served as General Manager of Secretly Publishing, establishing it as a premier independent publisher and starting joint venture publishing enterprises with Secretly Distribution affiliated labels Captured Tracks, Awesome Tapes From Africa, Run For Cover, Temporary Residence and RVNG Intl.
In August, Coombs and Secretly announced Friends Of, a new project he's leading in which Secretly Group's three record labels will release special singles, EPs and LPs from an array of artists who may otherwise operate outside of the Secretly roster. While the seeds of Friends Of were planted in 2019, the project came to fruition as a way to address the rapid, drastic changes in how music is created and shared in the pandemic, extending the company's creative community and their dedication to dynamic collaboration. The inaugural lineup includes projects from Bullion, Devendra Banhart & Noah Georgeson, Julie Byrne & Trayer Tryon, Ryan Hemsworth, Junglepussy, Theophilus London, Gia Margaret, Bongeziwe Mabandla, Madison McFerrin, Routine (Annie Truscott & Jay Som), Triathalon, Kenneth Whalum, Wet, and Ramy Youssef, plus more TBA.
On Friends Of, Jon says, "Music and friendship have always been inextricable. Our favorite records and artists are like dependable, empathetic friends themselves: helping us through tough times, cheering us through bright ones, amping us up or calming us down. The right song can remind us that it's only half an inch of water when we think we're going to drown. Across the board, we are better when we surround ourselves with friends that inspire and enrich us, and the artists taking part do exactly that. And so Friends Of is also an extension of this sentiment. We're happy to call these artists friends, some old and some new, and are excited to help bring their art to the world. We hope you enjoy and make a new friend along the way."
Jon Coombs spearheaded the successful Our First 100 Days campaign, which raised over $100,000 for non-profits that aid under-represented groups, the LGBTQ community, reproductive rights, and climate change.
About A2IM:
A2IM is a 501(c)(6) not-for-profit trade organization headquartered in New York City that exists to support and strengthen the independent recorded music sector. Membership currently includes a broad coalition of more than 700 Independently-owned American music labels. A2IM represents these independently owned small and medium-sized enterprises' (SMEs) interests in the marketplace, in the media, on Capitol Hill, and as part of the global music community. In doing so, it supports a key segment of America's creative class that represents America's diverse musical cultural heritage. Billboard Magazine identified the Independent music label sector as 37.32 percent of the music industry's U.S. recorded music sales market in 2016 based on copyright ownership, making Independent labels collectively the largest music industry sector.
Learn more about A2IM. To join, contact us at [email protected].