A2IM Featured Executive: Shane Gill, Head Of Music at Opposition (BBTV)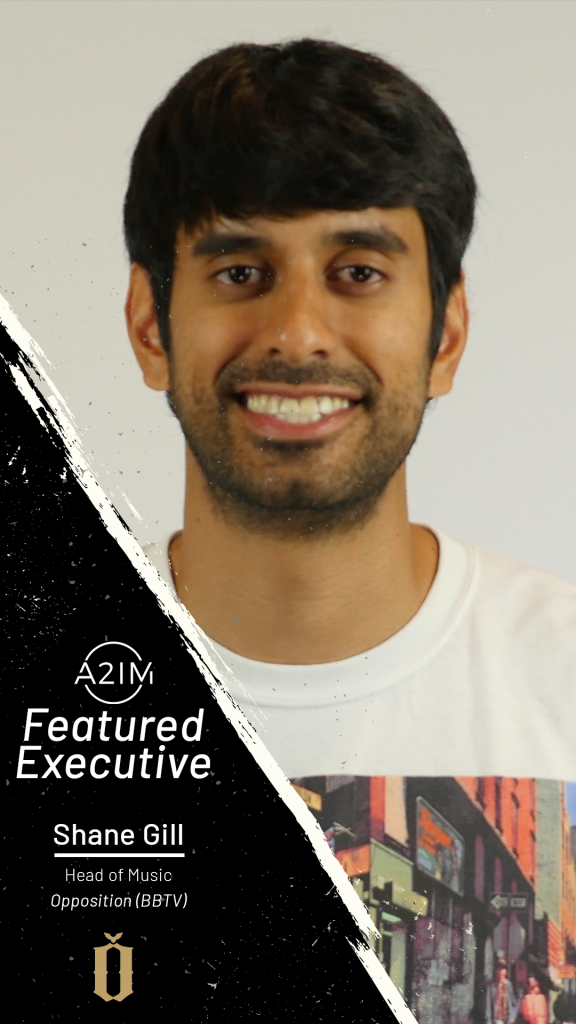 Welcome to A2IM's Featured Executive feature. We will highlight executives making moves and supporting the growth of the independent community. Do you or someone you know fit the bill? Submit an executive here. Please meet this week's featured executive, Shane Gill, Head Of Music at Opposition (BBTV).
With his education coming via different voices like Gil-Scott Heron to George Clinton, Shane has always considered himself at a never ending debt and gratitude towards all musicians. That only grew deeper when he began his career as an intern at indie label, Duck Down Music, being able to work with Talib Kweli, Sean Price, De La Soul and more. While at Duck Down Music, Shane was quickly promoted to Head of Marketing and positively impacted a number of areas of the business including A&R, social media, e-commerce, artist management, and label management.
Shane joined leading digital entertainment company BBTV in 2014 and helped build its music division, Opposition, from the ground up. Shane was instrumental in onboarding their top artists/creators like 21 Savage, Major Lazer, Flume, Juice WRLD, Lyrical Lemonade and more to optimize their digital video programming strategies and diversify their revenue. Today, Opposition's creator network generates multi-billion views per month.
Understanding Opposition's unique position between music and tech, Shane spearheaded the launch of their Distribution & Label Services which has a forward thinking deal structure to empower independent artists through access to funding, digital expertise, and a wide network of influencers, tastemakers, and brands.
Pushing for a balanced industry and giving power to the artist's has become Shane's lifelong goal and by nature Opposition's mandate. In addition to that he works toward using his position for more outside of the music industry especially with the lines between music, politics, social activism and community becoming blurred more than ever before.
Not only has Shane been incredible at finding talent but he's also been a key driver from behind the scenes in growing some of today's biggest outlets. In 2014, he forged a partnership between Opposition and WorldstarHipHop and convinced them to re-start their YouTube channel and focus more on music content instead of viral or fight videos. The channel was at 100K subscribers then and quickly grew to +10M subscribers and +10B views in a few years with music at the forefront. In 2016, he also brought Lyrical Lemonade to Opposition when they were only at 50K subscribers, they also have seen incredible success with 15M subscribers today and arguably the top tastemaker in hip-hop. 
Shane's passion for giving power back to artists has been the main catalyst in building Opposition's services to be specifically catered to independent artists who want control of their careers. He's built a culture within Opposition that puts the artist first and back in the driver's seat giving them the tools & resources to become industry heavyweights without the support of major labels. Plain & simple, Shane Gill is the captain the music industry currently needs.
About A2IM:
A2IM is a 501(c)(6) not-for-profit trade organization headquartered in New York City that exists to support and strengthen the independent recorded music sector. Membership currently includes a broad coalition of more than 700 Independently-owned American music labels. A2IM represents these independently owned small and medium-sized enterprises' (SMEs) interests in the marketplace, in the media, on Capitol Hill, and as part of the global music community. In doing so, it supports a key segment of America's creative class that represents America's diverse musical cultural heritage. Billboard Magazine identified the Independent music label sector as 37.32 percent of the music industry's U.S. recorded music sales market in 2016 based on copyright ownership, making Independent labels collectively the largest music industry sector.
Learn more about A2IM. To join, contact us at [email protected].