A2IM Featured Executive: Jaxon Lee Swain, Vice President at sonaBLAST!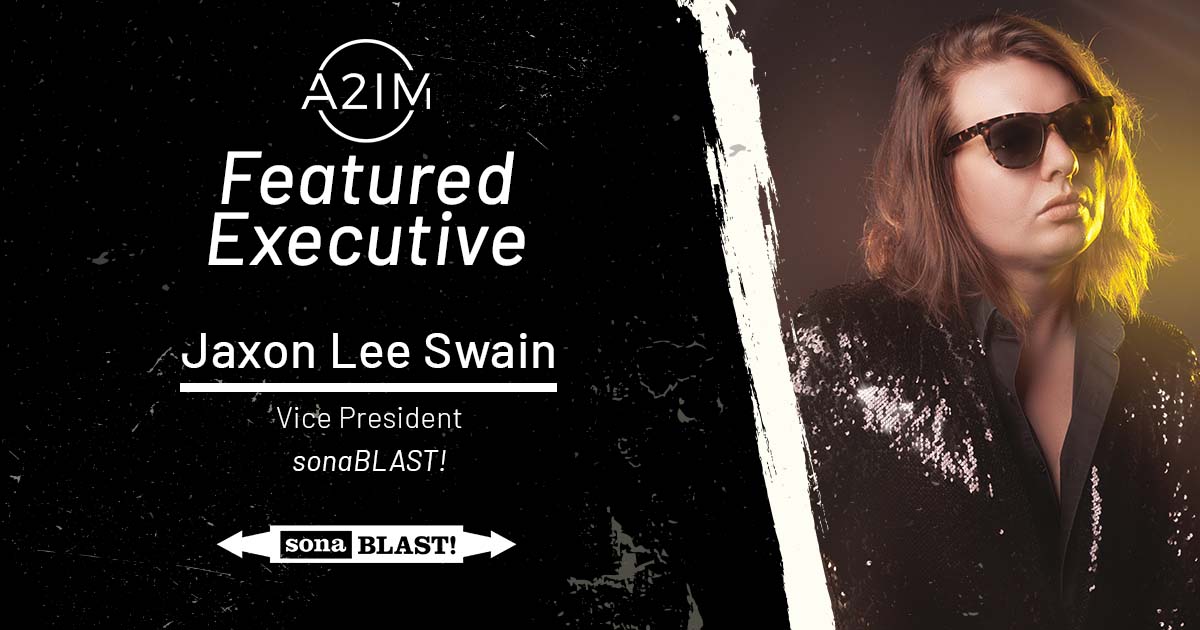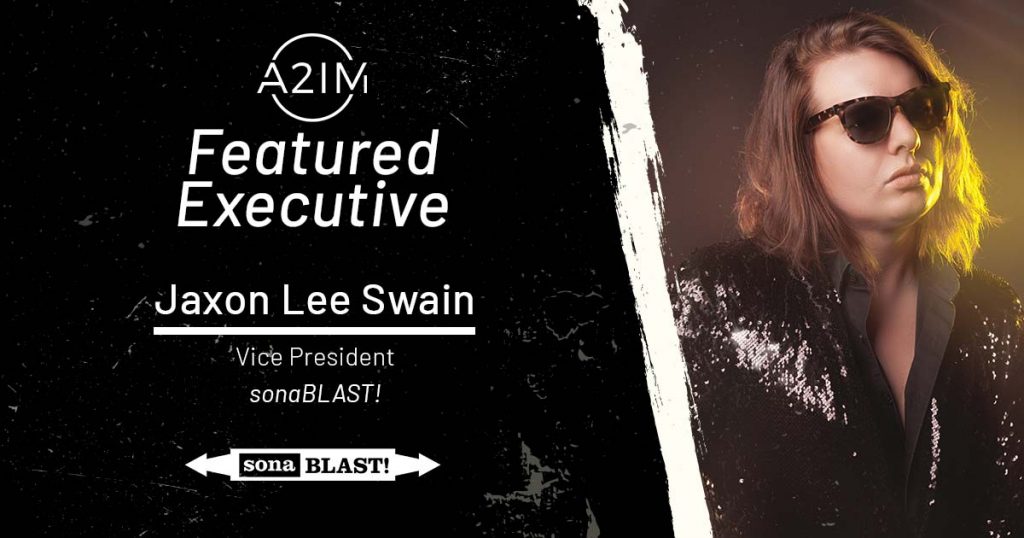 Welcome to A2IM's Featured Executive feature. We will highlight executives making moves and supporting the growth of the independent community. Do you or someone you know fit the bill? Submit an executive here. Please meet this week's featured executive, Jaxon Lee Swain, Vice President at sonaBLAST!.
Jaxon Lee Swain has hung out in almost every corner of the music business since the turn of the century. Since 2012, he has served as vice president of Louisville, KY-based independent record label and music publishing company sonaBLAST! Records.
A singer, songwriter, producer, band leader, label exec, radio personality influenced by MTV, Swain sought out piano lessons at age nine and throughout his adolescence also took up alto saxophone before teaching himself how to play electric guitar and bass.
At sonaBLAST! Swain has coordinated the releases of nearly 150 albums, singles, compilations, soundtracks, and film scores, including releases by acclaimed Irish song-smith Mark Geary, indie star Ben Sollee, Grammy-nominated rapper Jack Harlow, and queer punk zeitgeist GRLwood. Swain and sonaBLAST! founder Gill Holland have also brokered hundreds of syncs in film, TV and commercials, in everything from Gossip Girl to 2017's Academy Award nominated The Big Sick, and Ron Howard's Hillbilly Elegy.
Swain has also worn many different hats as a performer, most notably since 2014 as bass player and band leader for Rock & Roll Hall of Fame member Wanda Jackson. In 2015, he joined the lineup of Alive Natural sound recording artists King Mud, whose 2016 LP Victory Motel Sessions saw the band tour extensively through the US, UK, and Europe. Swain was working remotely way before the rest of us! As a solo artist, Swain was nominated for Rock Artist of the Year at 2017's Louisville Music Awards. His debut solo EP Night Diamonds has seen Swain gain more national exposure, and he and his band are known for delivering chaotically encapsulating live performances.
Swain is also the program director of ARTxFM, a community run free-form radio station in Louisville (WXOX 97.1). He has hosted two weekly programs on the station, the rock/punk/world focused Party Pants, and Early Music Party, the world's only all-vinyl radio program of medieval, renaissance, and baroque music.
Swain is a pillar of the local arts community and his work at sonaBLAST! is just a small part of his overall strategy of helping all musicians throughout the community by giving back, by volunteering, by spearheading local fund-raising compilations, by producing and mentoring young acts from all different musical backgrounds. For many, he is also a gateway to new musical discoveries through his encyclopedic music knowledge.
About A2IM:
A2IM is a 501(c)(6) not-for-profit trade organization headquartered in New York City that exists to support and strengthen the independent recorded music sector. Membership currently includes a broad coalition of more than 700 Independently-owned American music labels. A2IM represents these independently owned small and medium-sized enterprises' (SMEs) interests in the marketplace, in the media, on Capitol Hill, and as part of the global music community. In doing so, it supports a key segment of America's creative class that represents America's diverse musical cultural heritage. Billboard Magazine identified the Independent music label sector as 37.32 percent of the music industry's U.S. recorded music sales market in 2016 based on copyright ownership, making Independent labels collectively the largest music industry sector.
Learn more about A2IM. To join, contact us at [email protected].