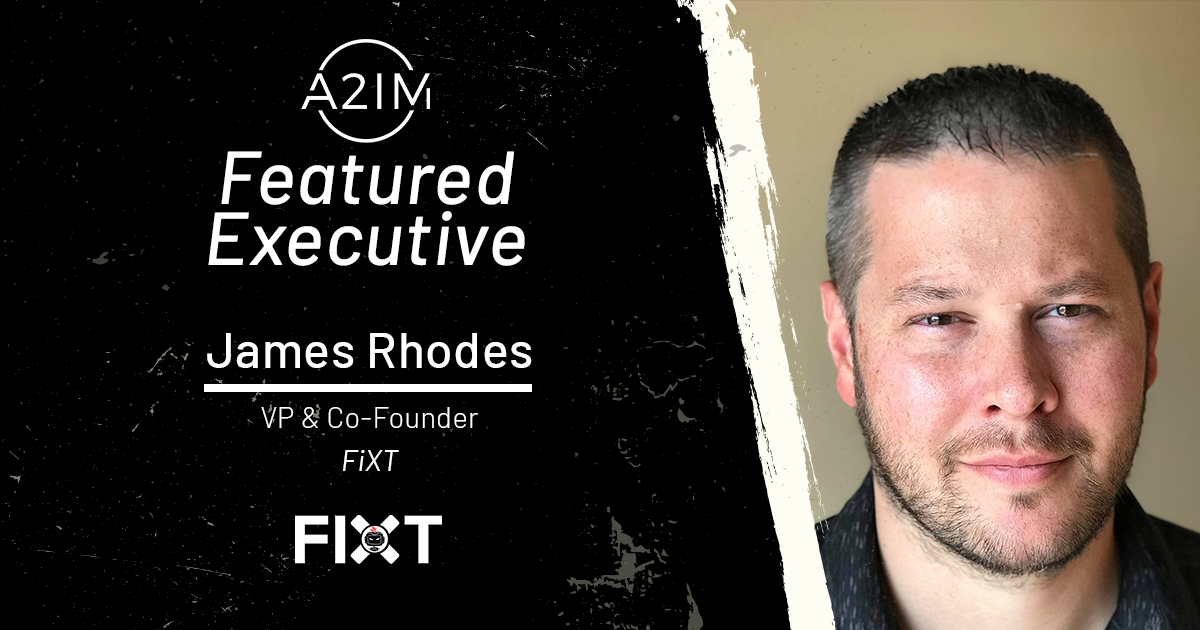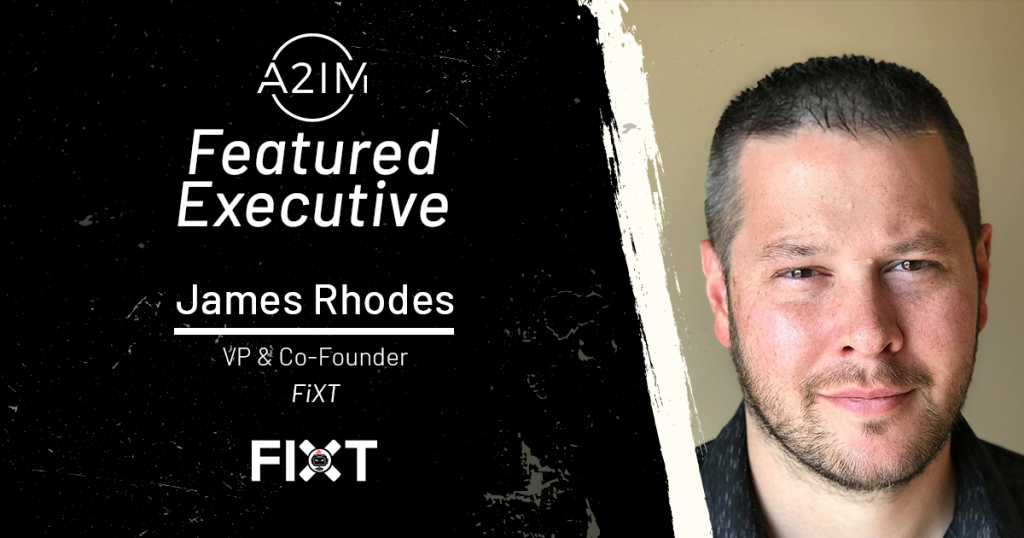 Welcome to A2IM's Featured Executive feature. We will highlight executives making moves and supporting the growth of the independent community. Do you or someone you know fit the bill? Submit an executive here. Please meet this week's featured executive, James Rhodes, VP & Co-Founder of FiXT.
James Rhodes is the Vice President of independent record label FiXT, an artist-owned label which he co-founded in 2006 alongside respected artist, producer, and composer Klayton, best known for his solo projects Celldweller, Scandroid, Circle of Dust and FreqGen. Building the company around the strength of Klayton's projects, James and Klayton have turned FiXT into a global brand with dozens of artists and fans in over 130 countries.
Born in Toledo, Ohio and raised in Burlington, Iowa, James' path to managing day-to-day operations at FIXT began as a fan of Klayton's '90s industrial project Circle of Dust. When Klayton started Celldweller in 1999 James joined his Street Team and met him for the first time in 2000 at a fan meet-and-greet opportunity in Detroit. James became an active member in the Celldweller fanbase and Street Team while pursuing a venture into music production by attending The Recording Workshop of Ohio in Fall 2003.
James explored interest in live show promotion with various shows in SouthEast Iowa in the early 2000s and booked one of Celldweller's first-ever live shows in 2003 at the legendary Iowa City venue Gabe's Oasis. Later in Fall 2003, James became Klayton's first employee, taking over Celldweller's online e-commerce operations.
By late 2004, James' hard work caught the attention of Tyler Bacon, the President and owner of Los Angeles management, publishing and licensing company Position Music, who managed Klayton at the time and continues to represent him across publishing and licensing. James joined Position Music in 2005 as one of the company's early full-time employees.
In 2006 James and his wife Rebecca moved back to Iowa to be closer to family as they began a family of their own. During the transition back to the Midwest, James and Klayton launched FiXT as the label vehicle for not only Celldweller, but to support other artists and provide a fair label deal in an industry known for lopsided agreements. Klayton's prior experiences with record labels had left him wanting for a better experience and together James and Klayton set out to offer a label focused on treating artists like family.
Now, as FiXT approaches its 15-year anniversary in 2021, the company has 2 label divisions, FiXT and FiXT Neon, focusing on electronic-rock and retro-inspired synth and indie-pop music, respectively. The label boasts over 2.5 billion lifetime streams with an active artist roster of 25 artists and over 1,000 Film/TV/Video Game synch placements. The label's team consists of offices in Los Angeles, Denver, and Iowa, with over 20 employees, designers, writers, and publicists contributing from different corners of the world, including Chile, Ukraine, New Zealand, and more.
In 2020, James joined A2IM's Mentor program and has begun a new journey of finding ways to use his experience to give back to the independent music community.
About A2IM:
A2IM is a 501(c)(6) not-for-profit trade organization headquartered in New York City that exists to support and strengthen the independent recorded music sector. Membership currently includes a broad coalition of more than 700 Independently-owned American music labels. A2IM represents these independently owned small and medium-sized enterprises' (SMEs) interests in the marketplace, in the media, on Capitol Hill, and as part of the global music community. In doing so, it supports a key segment of America's creative class that represents America's diverse musical cultural heritage. Billboard Magazine identified the Independent music label sector as 37.32 percent of the music industry's U.S. recorded music sales market in 2016 based on copyright ownership, making Independent labels collectively the largest music industry sector.
Learn more about A2IM. To join, contact us at [email protected].