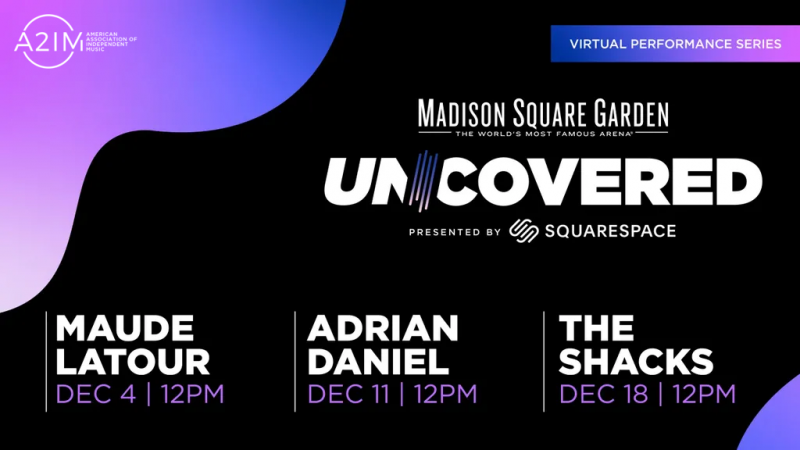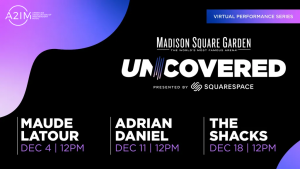 A2IM has partnered with Madison Square Garden Entertainment to help curate the lineup for their upcoming virtual performance series,"MSG Uncovered" presented by Squarespace. This exciting new streaming series will feature a different NYC-based emerging artist each Friday for three weeks. Beginning on December 4 with singer-songwriter Maude Latour, alternative Pop R&B artist Adrian Daniel follows, and concluding the series are indie rock genre-benders The Shacks. The stream will feature performances alongside interviews with the artists.
Each weekly stream will also support one of two charities making a difference in the tri-state area, Art Start and the Garden of Dreams Foundation. The three week series will air at noon on December 4, 11 & 18, via Madison Square Garden's Facebook, YouTube and Instagram pages.
Every artist participating in the series is from a member label of A2IM. A2IM is proud to have played a key role in sourcing talent for this program directly from within its membership of over 700 independent record labels. A2IM is thrilled to pay homage to the New York City independent music scene, the same city in which the organization was founded 15 years ago.
Member labels that are participating:
Independently Popular | Artist – Maude Latour
1990 Records | Artist – Adrian Daniels
United Interests | Artist – The Shacks
Read more about the program here.
About A2IM:
A2IM is a 501(c)(6) not-for-profit trade organization headquartered in New York City that exists to support and strengthen the independent recorded music sector. Membership currently includes a broad coalition of more than 700 Independently-owned American music labels. A2IM represents these independently owned small and medium-sized enterprises' (SMEs) interests in the marketplace, in the media, on Capitol Hill, and as part of the global music community. In doing so, it supports a key segment of America's creative class that represents America's diverse musical cultural heritage. Billboard Magazine identified the Independent music label sector as 37.32 percent of the music industry's U.S. recorded music sales market in 2016 based on copyright ownership, making Independent labels collectively the largest music industry sector.
Learn more about A2IM. To join, contact us at [email protected].