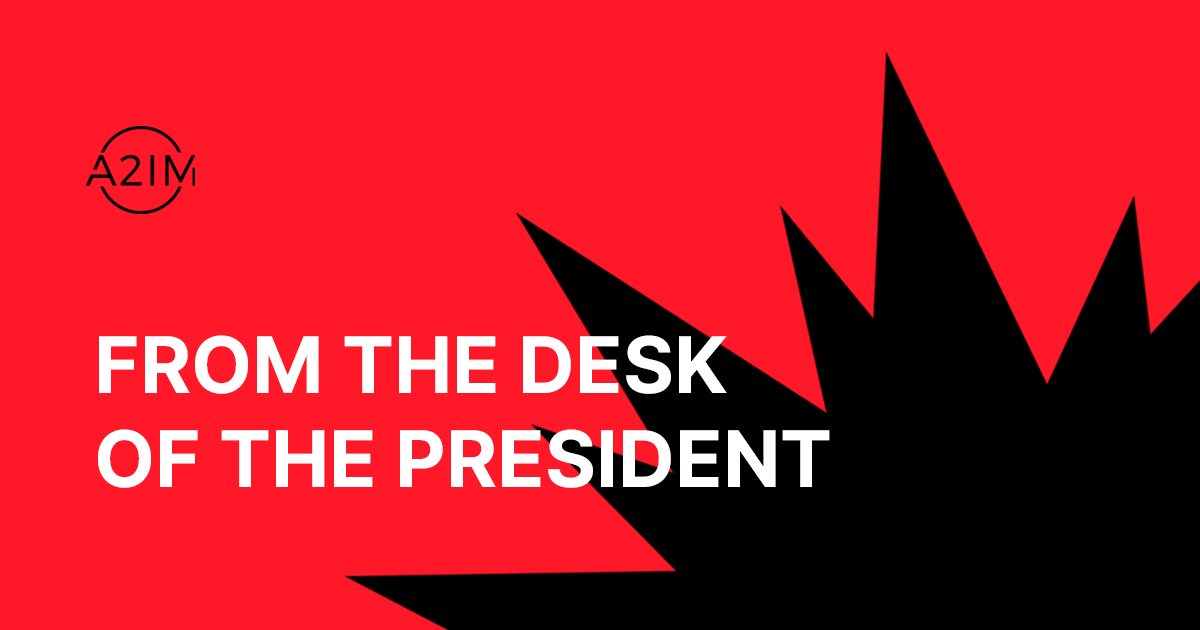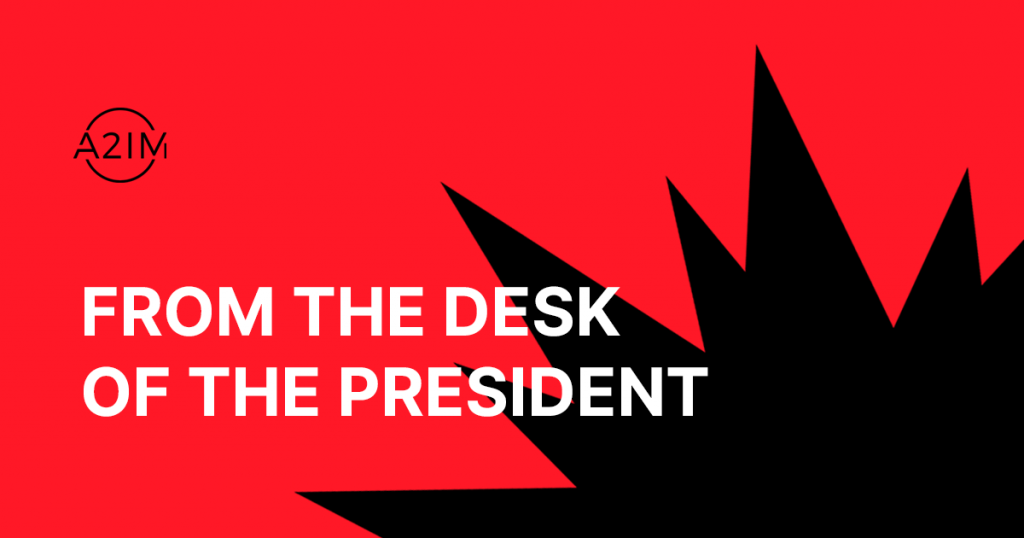 Welcome to From the Desk of the President. This is a series of notes from A2IM CEO and President, Dr. Richard James Burgess. Today, Dr. Burgess bullets A2IM's advocacy progress and wins.
As you are no doubt aware, A2IM, in addition to the many educational and networking events it hosts, is an advocacy and policy organization. We are active in Washington DC on a daily basis, often through our lobbyist, Josh Hurvitz of NVG but also via direct interactions with issues and lawmakers and through collaborations and coalitions with organizations that share our interests. These shared interests can, in some cases, be specific to single issues. That is why you may see A2IM collaborating with entities that would appear to have competing interests. In the past year, we have also had to take action in states—to defend freelance status in California (AB5) and to create transparency for police misconduct in New York (50-A repeal).
Getting things done via the legislature can be a long, drawn-out, messy process or a quick opportunistic hit. We are often on the defensive but are always positioning ourselves for proactive positions. Outright wins are not easy to come by but we, and your businesses would sustain a great deal more tangible losses if we did not maintain a consistent presence in lawmakers minds and offices (virtually at the moment but in person usually). When changes in the law are being considered A2IM makes sure that the interests of its small and medium-sized-enterprise members are taken into account.
The primary goal of A2IM from its beginning, in 2005, was to ensure a level playing field for independents. Before we fully entered the digital era, the potential inequities were relatively easy to comprehend, like the business models of the time. Now we are dealing with constantly proliferating business models whose long-term impacts on your businesses can be difficult to predict. Understanding how they can affect your revenues can be a complicated game of 360-degree chess.
We look forward to getting back to our in-person events, which in so many ways are the lifeblood of A2IM. We will continue our events virtually until it is safe to gather again. Please know that our efforts to protect and improve the legislative environment in which your businesses exist, continue every day. Advocacy and policy may be a relatively unseen activity and it may be the most important thing we do for our members. It is time-consuming and expensive, and we greatly appreciate that you choose to support these activities by being members.
A Brief Summary of A2IM Advocacy 2020
Engaged with Dept. of Justice in opposition to increased Liberty Media investment in iHeart Media.
Filed over a dozen comments to Copyright Office related to implementation of Music Modernization Act, as part of ARM.
Arranged, prepared, facilitated A2IM Advisory Board member participation in Copyright Office roundtable on DMCA standard technical measures.
Secured Senate introduction of HITS Act by Sen. Feinstein and Sen. Blackburn. Earned support for provision from House Ways and Means Committee, House Democratic Leadership and Senate Democratic Leadership. Well positioned to earn enacted of HITS Act in Q1/Q2 2021.
Secured PPP funding for independent labels, second source of funding, and then authorization for second draw PPP funds. Secured legislative fix to issue with 1099/W2 mixed earners related to Pandemic Unemployment Assistance eligibility.
Finalized amendment to AB5 legislation in a yearlong effort to allow freelance workers in the music industry in California in collaboration with MAC (Music Artists Coalition), RIAA, Recording Academy, Independent Music Professionals United (IMPU) of California.
Teamed with RIAA, NMPA and other in submission to Senate Judiciary Committee on DMCA reform process.
Spoke on roundtable as invited guest in House Judiciary Committee review of Copyright Office DMCA 512 report
Testified at roundtable hearing held by Senate Judiciary Committee on terrestrial sound recording performance rights as sole representative of label/artist community. Other witness on "our side" was SoundExchange .
Joined musicFIRST and Future Of Music in petition to FCC called motion to reconsider the FM Duplication ruling of August 2020.
Met with Senior Executives at Twitch to encourage them to cease unlicensed use of recordings. Continued campaign via several interviews with Twitch "content creators" on Twitch channels.
Worked with many other copyright associations to successfully pass the small claims CASE Act in the end of year Omnibus Bill.
About A2IM:
A2IM is a 501(c)(6) not-for-profit trade organization headquartered in New York City that exists to support and strengthen the independent recorded music sector. Membership currently includes a broad coalition of more than 700 Independently-owned American music labels. A2IM represents these independently owned small and medium-sized enterprises' (SMEs) interests in the marketplace, in the media, on Capitol Hill, and as part of the global music community. In doing so, it supports a key segment of America's creative class that represents America's diverse musical cultural heritage. Billboard Magazine identified the Independent music label sector as 37.32 percent of the music industry's U.S. recorded music sales market in 2016 based on copyright ownership, making Independent labels collectively the largest music industry sector.
Learn more about A2IM. To join, contact us at [email protected].