A2IM Featured Executive: Molly Smith, Art Director at Ghostly International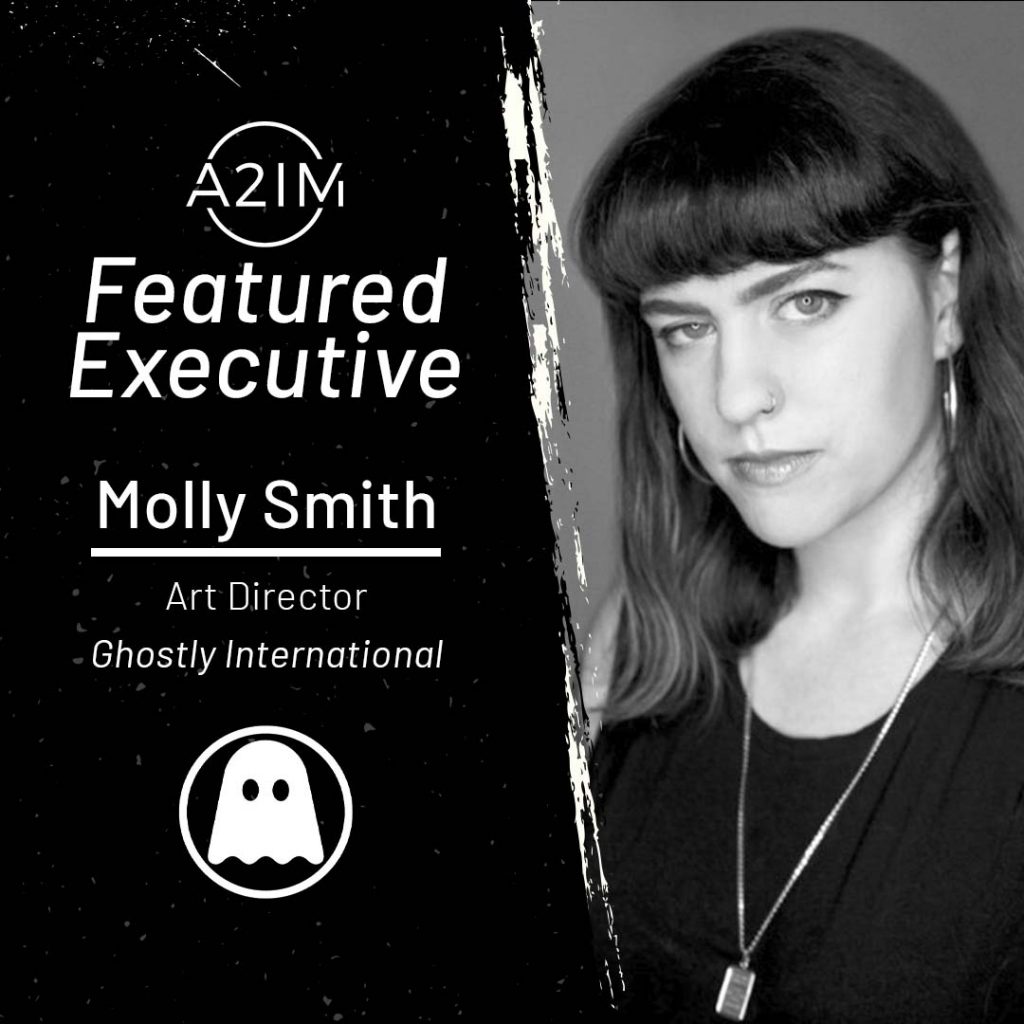 Welcome to A2IM's Featured Executive feature. We will highlight executives making moves and supporting the growth of the independent community. Do you or someone you know fit the bill? Submit an executive here. Please meet this week's featured executive, Molly Smith, Art Director at Ghostly International.
A graduate of NYU's Studio Art program, Molly Smith leads art direction for the Ghostly International and Spectral Sound labels. Entering her tenth year at Ghostly, Molly has established a network of incredible visual artists with whom she complements the work of Ghostly's eclectic musical roster bringing a world-building sensibility to everything she takes on.
An artist herself, Molly Smith first discovered her love for drawing at a young age, honing her craft as much on computers as paper. The minuscule details of pixel art were an early inspiration, so when she discovered the technique of stippling it was a natural fit. Using only black ink on paper, the images she creates—often referencing ancient sculptures and nature—materialize on the page through a series of thousands upon thousands of handmade dots. Her dedication to such painstaking detail and her knack for packing greater meaning into seemingly straightforward visuals makes Smith's work stand out no matter the context.
From as early as 2008, Molly Smith has gradually made herself something of a constant presence in the world of New York City's underground music. The Brooklyn-based artist could be found contributing her expertise and passion nearly any given week—whether hosting door at local parties or helping craft evocative visuals for area artists." Molly is a visual artist herself and has been able to establish a trust with both musicians and visual artists that has allowed projects to become more than the sum of their parts. She has been able to integrate her fine art practice and graphic design chops into successfully leading a multimedia design community.
About A2IM:
A2IM is a 501(c)(6) not-for-profit trade organization headquartered in New York City that exists to support and strengthen the independent recorded music sector. Membership currently includes a broad coalition of more than 700 Independently-owned American music labels. A2IM represents these independently owned small and medium-sized enterprises' (SMEs) interests in the marketplace, in the media, on Capitol Hill, and as part of the global music community. In doing so, it supports a key segment of America's creative class that represents America's diverse musical cultural heritage. Billboard Magazine identified the Independent music label sector as 37.32 percent of the music industry's U.S. recorded music sales market in 2016 based on copyright ownership, making Independent labels collectively the largest music industry sector.
Learn more about A2IM. To join, contact us at [email protected].