Welcome to A2IM's Featured Executive column, where we highlight executives making moves and supporting the growth of the independent community. To submit yourself or a friend for a potential feature, fill out this form.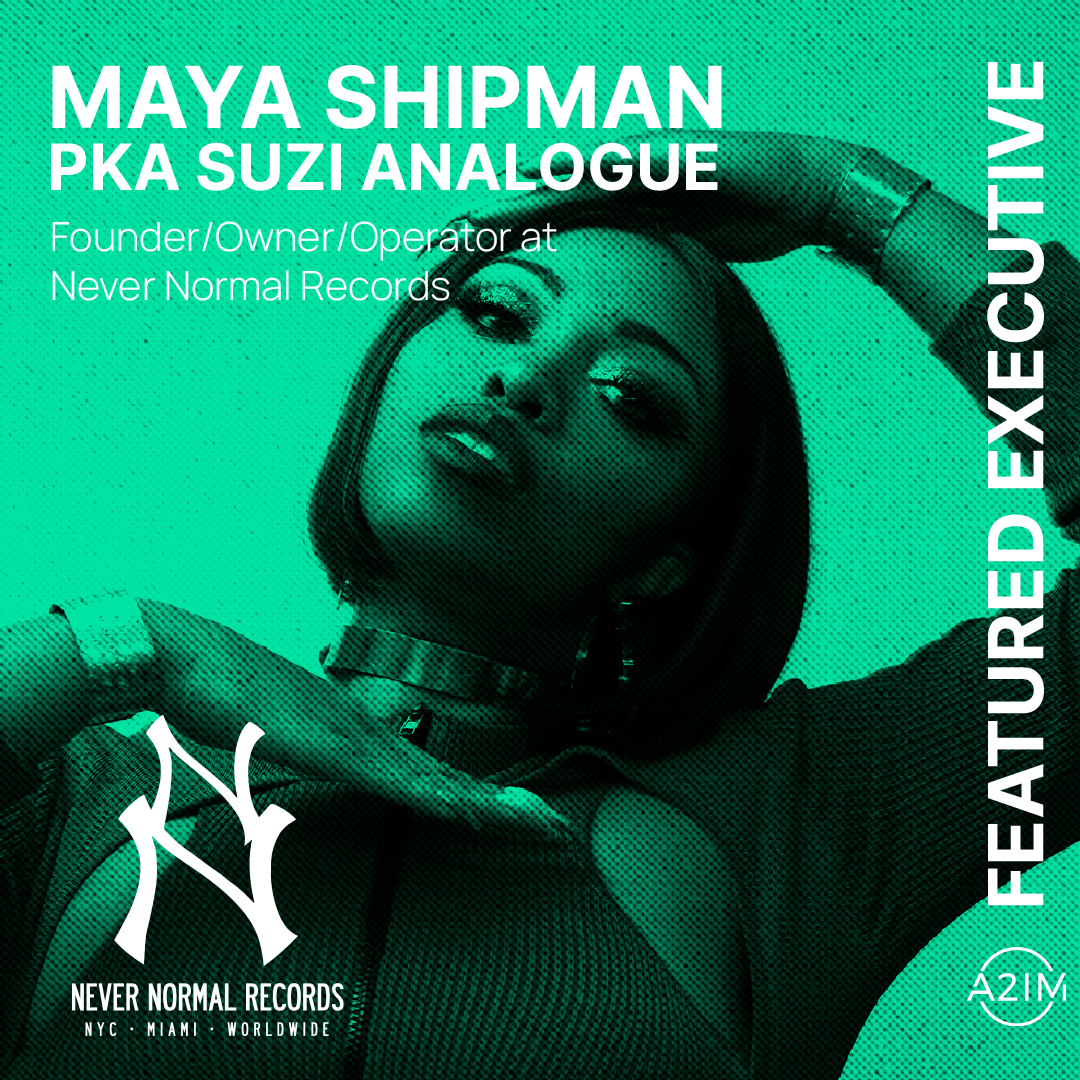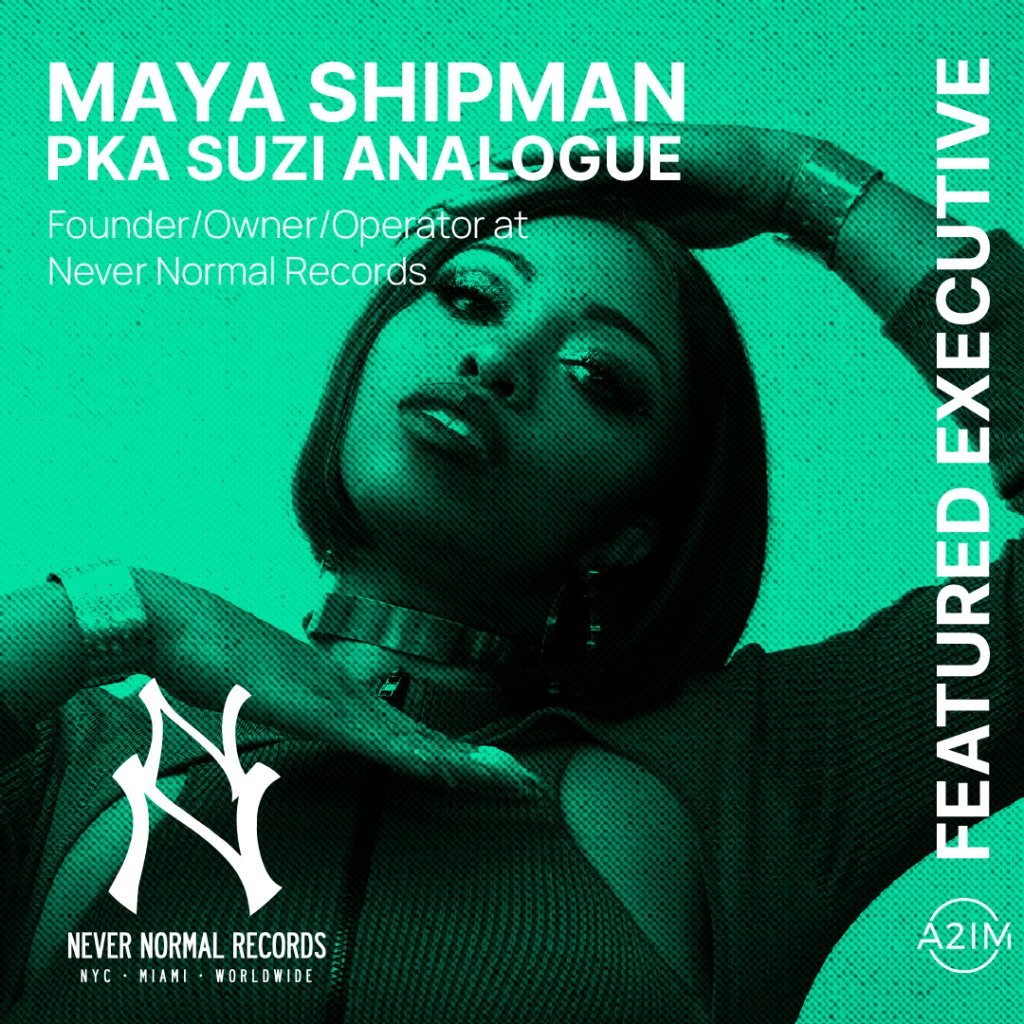 Maya "Suzi Analogue" Shipman is a prolific Producer, Songwriter, Composer, Member Of DISCWOMAN Collective, The Recording Academy & Creator Of Never Normal Records based in Miami, FL. 
She is energetically pioneering the new wave of women producers both on stage (having toured with the likes of Sylvan Esso, Princess Nokia, BONOBO, TOKiMONSTA and more), and through her label.
Follow Maya on Instagram, and Never Normal Records on Instagram, Facebook, and Twitter, or visit there website here.
"NNR believes the only good system is a Soundsystem."
Tell us about Never Normal Records!
Never Normal Records is a label and audio archive featuring a community of Afro-diasporic artists and allies who are innovating audio/visual works combining sound, technology and our world in order to self-determine equitable Black futures. NNR believes the only good system is a Soundsystem.
Recent tragedies in the US have proven a void in the care and acceptance of Black livelihood, despite the countless contributions by Black people & labor that is in tandem with what has now come to be known as American success. This tragic plague hauntingly extends into every aspect of day to day living for Black America and the diaspora worldwide. Never Normal dedicates it's creative focus to highlighting stories and sounds from the people through visual & song form to bear witness to the vast expression and possibilities of Black future.
Never Normal Records operates a non-standard business model that centers artist care, especially in regards to Black and Indigenous music. In addition to sharing our practices, we bring a very youthful market and much space for building educational opportunities for the future music workers and creatives. We are very tapped in with our community across the board, from artists to journalists, visual artists and more.
What are your long-term goals for your company?
The long term goals of my company are to generate sustainable business partnerships that financially and logistically support the careers of the artists affiliated with the label, as well as innovate the industry with the dynamic catalogue and content that Never Normal Records brings.
My goal is for Never Normal to become a valuable power player in the modern music industry and encourage more healthy and sustainable ways to create and distribute Black music and beyond.
What's one milestone for NNR that you're particularly proud of?
Music from the Never Normal Records catalogue has been played on nearly every continent of the world, and featured on global TV networks.
Any other exciting company updates?
Never Normal will launch our first Collection Set series, featuring collectible physical music that is a snapshot of our times from worldwide Black composers on March/April 2021. The inaugural Collection Set, entitled NYOTA IMARA/BLACK FUTURE will feature tapes from artists NO EYES, Suzi Analogue, Heavee & RaFia.
Do you or someone you know fit the bill? Submit an executive here.
About A2IM: 
A2IM is a 501(c)(6) not-for-profit trade organization headquartered in New York City that exists to support and strengthen the independent recorded music sector. Membership currently includes a broad coalition of more than 700 Independently-owned American music labels. A2IM represents these independently owned small and medium-sized enterprises' (SMEs) interests in the marketplace, in the media, on Capitol Hill, and as part of the global music community. In doing so, it supports a key segment of America's creative class that represents America's diverse musical cultural heritage. Billboard Magazine identified the Independent music label sector as 37.32 percent of the music industry's U.S. recorded music sales market in 2016 based on copyright ownership, making Independent labels collectively the largest music industry sector.
Learn more about A2IM here, and contact our team at [email protected] to join now