Written by CCS Rights Management
WE'RE A GLOBALLY-MINDED MUSIC COMPANY SPECIALIZING IN RIGHTS MANAGEMENT, MUSIC PUBLISHING, CREATIVE SERVICES, ARTIST DEVELOPMENT & MORE.
CCS Rights Management is a global independent music company with exceptional administration and creative services tailored to the needs of artists, songwriters, producers, publishers and record labels, as well as film/TV production and media companies, production music libraries, corporate brands and more. Founded in 2011 by industry veteran Jodie Ferneyhough, the fast-growing international company is dedicated to empowering the entrepreneurial music sector by maximizing income, developing and nurturing talent, and providing innovative creative opportunities that impact.
A leader in rights administration.
CCS provides robust rights administration by an experienced team with the highest level of expertise and deep relationships around the globe. It offers accurate, transparent and efficient rights administration, royalty collections of every revenue stream plus quarterly reporting. CCS administers over 150,000 copyrights. Additionally, it is the sub-publisher for many leading independents such as Angry Mob Music, Kassner Music Publishing, Galileo Music, Alondra Music, and Bardis Music Company, to name a few.
We partner with major international production companies, studios, music libraries, and brands to monetize the ownership of music catalogs.
CCS is well-known for its ability to monetize and add value to music catalogs and their musical and audiovisual intellectual properties. The company represents the hugely successful Spin Master Ltd., administering ancillary rights worldwide for numerous productions airing in 190 countries, most notably the PAW Patrol and Abby Hatcher franchises. Other production company partners include Blue Ant Media, Aircraft Pictures, and the award-winning Schitt's Creek series. CCS also represents the library music of award-winning production house ScoreKeepers with music by Emmy Award-winning composers and emerging indie artists with all genres, moods, and instrumentations represented.
Daytripper Music Publishing: A Creator-first approach. Home to artists and songwriters creating music with impact.
CCS' international creative roster features award-winning and up-and-coming artists, songwriters, producers from around the world in all genres. Its new Daytripper Music Publishing division is musically agnostic and focuses on a creator-first approach, specializing in discovery and development, and fostering great talent with the best creative, marketing, synch, and administration. The diverse roster includes CARYS, Hill Kourkoutis, Tribe Friday, Featurette, POESY, Nuela Charles, Yukon Blonde, Laurent Bourque, Mikhail Laxton, Olivia Wendel, Laureli, and Daniel Blake. 
While expanding further into the U.S. and territories abroad, Daytripper has formed joint venture partnerships with legendary KCRW radio host, global tastemaker, and two-time Grammy-nominated music supervisor Chris Douridas, as well as Made with Pencil Crayons, the publishing division of Canadian label Unfit Records which has a roster featuring the Grammy-nominated Telmary Y Habanasana, Lemon Bucket Orkestra, Battle of Santiago, among others. Visit our website: daytrippersongs.com
CCS Neighbouring Rights: Experienced. Deep relationships. Direct Collections. Maximum Income.
As the only Canadian-based company providing neighbouring rights services, CCS is uniquely positioned to collect royalties and remunerate record labels and recording artists for their public performances on sound recordings. With over than 40 clients including rising superstar artist Tate McRae and Rezz, CCS Neighbouring Rights division is managed by Lee-Anne Wielonda, one of the most respected neighbouring rights executives with well-established relationships worldwide. The division is unparalleled in finding new income from radio performances, digital income, and other sources. By uniquely going direct to collect from rights organizations in 30+ territories, CCS delivers more income with lower costs by taking out multiple layers of fees from among the maze of societies. With the recent changes to Canadian law, many labels and artists in the U.S. are also now entitled to neighbouring rights income from the territory.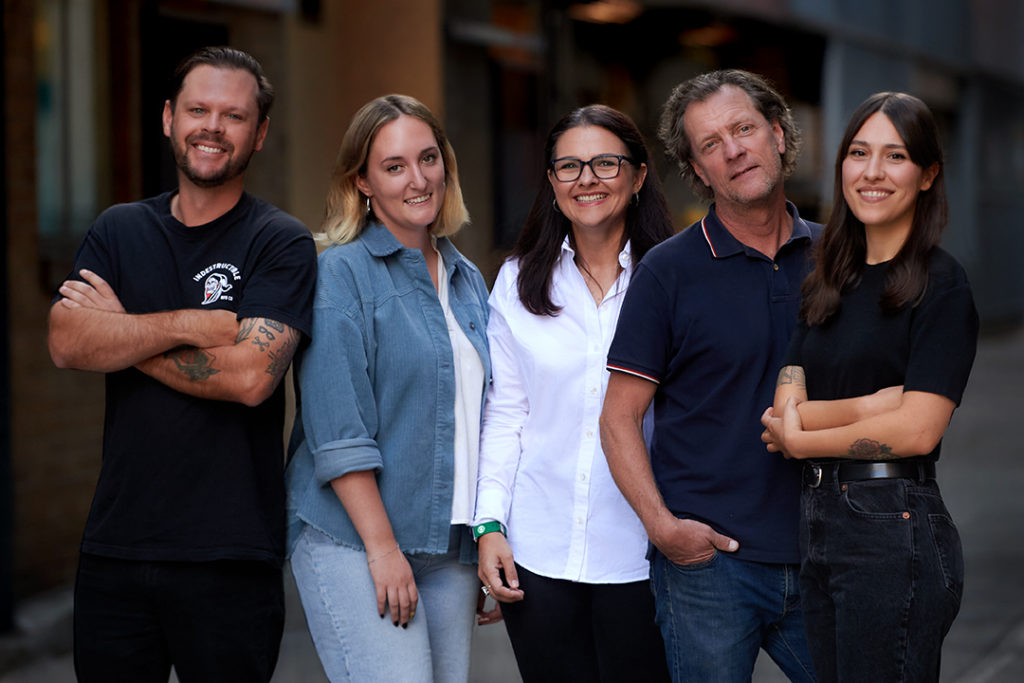 Our Team
Pictured (L to R): Jordan Howard, A&R/Creative Director; Casey Grace, Publishing and Artist Coordinator; Lee-Anne Wielonda, Neighbouring Rights Manager; Jodie Ferneyhough, Founder and President of CCS; and Diana Medeiros, Sync Manager. Not pictured: Katharine Perak, Copyright and Royalty Director and Abbey Donnelly, Copyright and Royalty Coordinator.