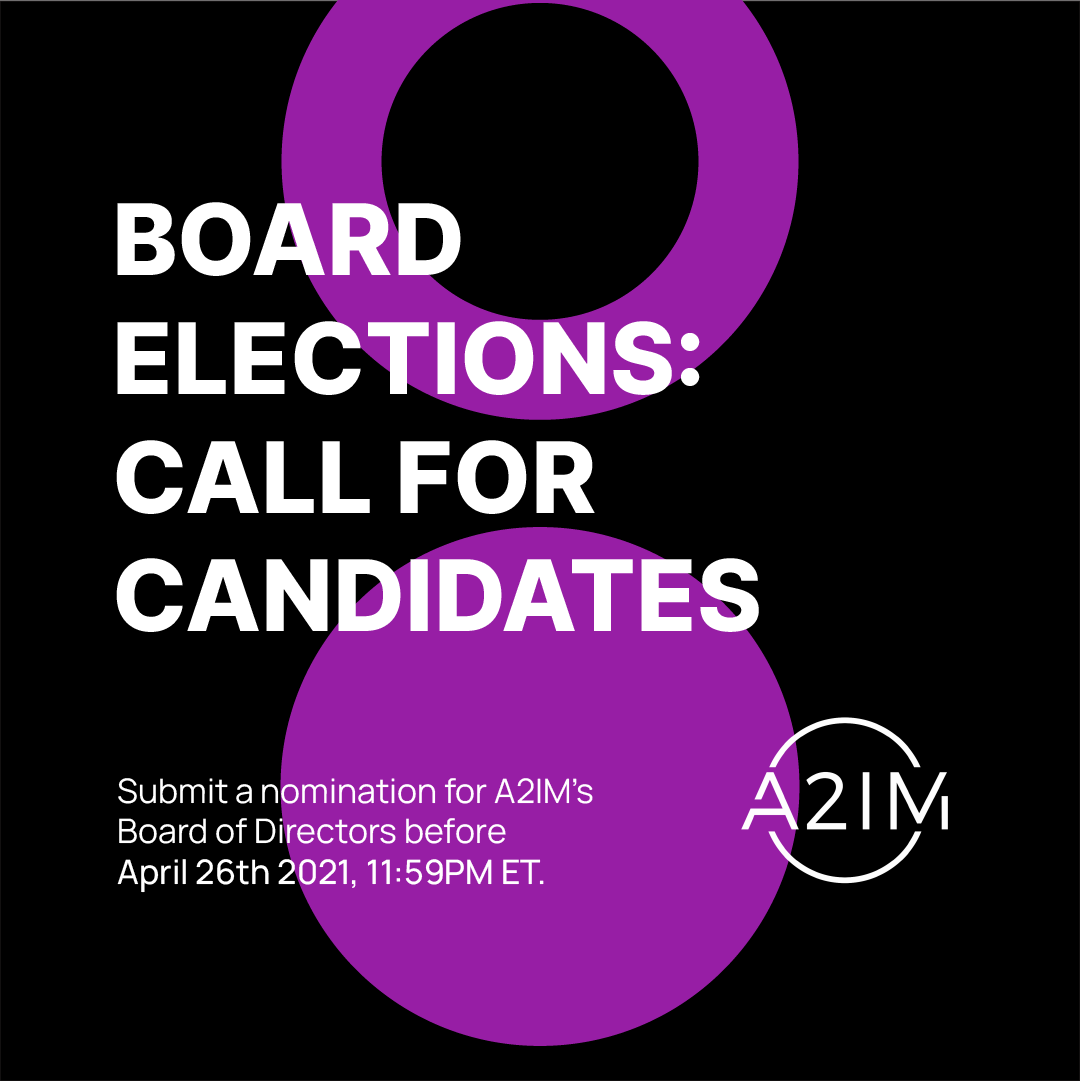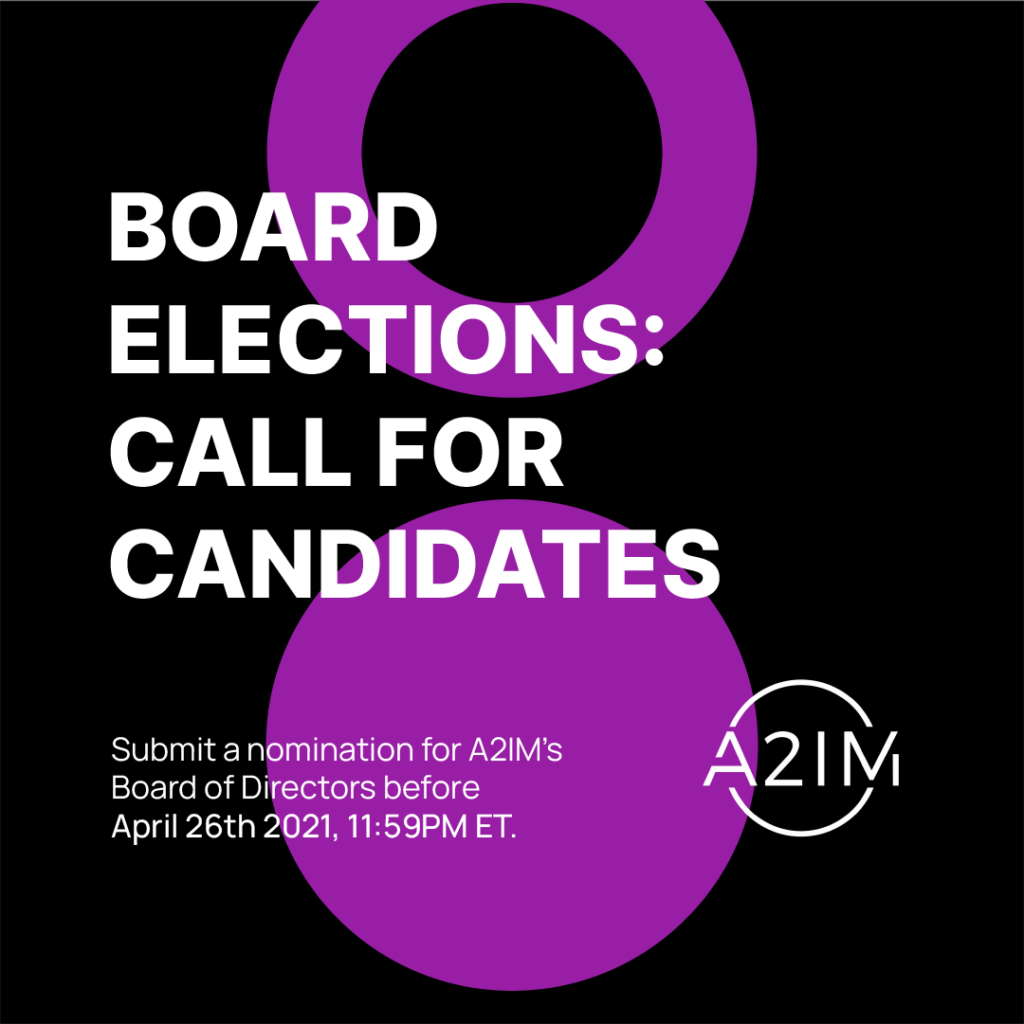 Per A2IM's By-Laws, an election will be held in May to fill the outgoing Board of Director seats. We strive to ensure that our Board of Directors represents a diverse set of industry perspectives, and want to encourage the nomination of candidates from underrepresented groups. You may self-nominate, or be nominated by a fellow A2IM Member. 
The nomination period will run from April 12th, 2021 until April 26th, 2021, 11:59pm ET 
about a2im's board of directors
A2IM Board members will offer their expertise to represent the membership at large, and assist in setting the priorities and direction for the organization.
Amongst other responsibilities, Board Members will primarily …
become involved in committees

 (e.g. Sustainability, Education) and projects supporting the efforts and growth of A2IM. 
be kept informed by A2IM staff of important developments as they arise then

 provide guidance on how to better serve the Independent music community

.

meet in person or by teleconference six – ten times per year

 to review the agenda and progress of the organization. 
A2IM Board of Directors' terms run for three years. Each board seat is term limited to one, full three-year term. Any board member, and member company, serving a full three-year term must sit out one year at the conclusion of their term before being eligible to run for election again.
about this year's election
A2IM board seats will be filled in May by an online vote of the full A2IM label membership, in a private ballot with one (1) voter per Label Member company. The newly elected board members will serve terms, as described above, to begin on July 1st 2021.
Timeline
The deadline for nominations is Monday, April 26th, 2021, 11:59pm ET
A2IM staff will certify nominations by Friday, May 7th, 2021.
Election voting details and ballots will be circulated to the primary contact at A2IM Label Member companies on Monday, May 10th, 2021
Election period will remain open until May 21st, 2021 11:59pm ET
Nominees should be current Label Member company owners, founders, or C-level executives. Should you not fulfill this criteria but still wish to run, you must be approved by a majority of the board prior to being listed on the ballot.
You may self-submit or nominate a member from your label or another A2IM member label for this election (if the latter, they must confirm their approval first before being added to the ballot). The deadline for nominations is Monday, April 26th, 2021, 11:59pm ET.
TO SUBMIT A NOMINATION, FILL IN THIS GOOGLE FORM asking for the following:
Name
Email
Label Affiliation
Title
Eligibility Requirements
A description of who you are, what you do, and your background in the industry (Under 2500 words)
What do you consider your greatest area of expertise, and how can it contribute to the knowledge base of our board?

What are three key issues you have identified in the independent sector today that you plan to address if elected to the Board of Directors? (One sentence max per issue)

Please expand on the priority issue(s) you would like to address if you're elected to serve on the board.

Please explain why being a part of the independent music community is important to you. (300 word max) *optional

High-res image of yourself and your company logo
Links to personal social profiles (Linkedin, Instagram) and website (if applicable)
Any more information you'd like to be taken into consideration
We will miss the departing board members whose terms are up this year, and we greatly thank them for lending their time, knowledge of the sector, and passion for the Independent community to A2IM over the years. With these vacancies, we look forward to welcoming fresh faces and new and exciting points of view to the 2021 board.